Sep 21, 2023
AACR Annual Meeting 2023 Report
Image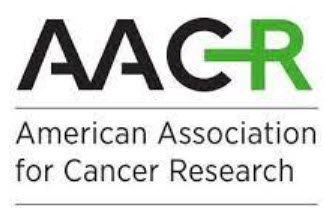 The American Association for Cancer Research (AACR) Annual Meeting was held April 2023 in Orlando, Florida, attracting more than 21,000 attendees – in person and virtual – from across national and international cancer research communities.
Presentations on Major NCI Initiatives
The National Cancer Plan
NCI Director Monica Bertagnolli, MD, presented on the NCI's National Cancer Plan, which includes a focus on data utility. The plan includes essential goals and accompanying strategies that outline what must be accomplished to prevent more cancers, reduce deaths from the disease, and improve the lives of everyone after a diagnosis with cancer.  
Dr. Bertagnolli:
The interplay of each of these major goals has to be successful to achieve the real promise of cancer research, and to achieve changes in society that end cancer as we know it. 
Read more about her presentation on the AACR Annual Meeting 2023 site.
NIH Data Management and Sharing Policy Explained
Emily Boja, PhD, Branch B Chief, CBIIT's Scientific Policy and Program Branches (SPPBs), Office of Data Sharing (ODS), moderated a NCI-sponsored educational session on the new NIH Data Management and Sharing Policy. 
The NIH DMS Policy provides guidance on data sharing requirements effective on January 25, 2023, which apply to NIH-funded research that generate scientific data regardless of the funding mechanisms. In brief, the new policy:
Applies to research projects without minimal budget requirement

Applies to research projects regardless of funding mechanisms

Requires investigators seeking NIH funding to include a data management and sharing Plan (DMS Plan) to maximize appropriate data sharing by abiding by the FAIR Principles and timelines consistent with the polices
Dr. Boja and other NCI/CBIIT staff who attended the AACR annual meeting report that there was great interest in learning the DMS policy in detail and its relevant resources, but also some confusion about what information should be included in grant applications. 
Dr. Boja:
Sharing and integrating all forms of molecular, imaging data, and clinical care data is how we will begin to see its impact on scientific discovery that will ultimately improve the outcome of cancer patients and population.  
Additional NCI CBIIT staff presentations at the AACR 2023 Annual Meeting included:
Jill Barnholtz-Sloan, PhD, Associate Director for CBIIT's Informatics and Data Science Program, presented on Using Big Data in Population Health. 
Dr. Barnholtz-Sloan:
There is significant interest in CRDC from all types of researchers who are looking for support in using CRDC resources – the datasets housed within CRDC as well as the analytical tools available – to do population and comparative research with foundational cases and samples.     
Erika Kim, PhD, Senior Biomedical Informatics Program Officer, CBITT / CRDC, the NCI Data Ecosystems Branch, presented at a Methods Session on the Human Tumor Atlas Network (HTAN) data housed in the CRDC. She demonstrated tools that make it possible to access, query, analyze and visualize this complex dataset.
Dr. Kim:
Access to datasets is an important aspect of making research data FAIR – Findable, Accessible, Interoperable and Reusable.  We also hear from researchers that they want more support around using – or tailoring – analytical tools available to them through our data commons and cloud resources.   
Staff from across CBIIT and CRDC note that there are challenges around integration and harmonization across various types of data. The ODS, where Dr. Boja serves, along with CBIIT's Semantics Infrastructure team, collaborates with CRDC's Data Infrastructure team to address the complexities of data harmonization and the infrastructure required for data reuse.  
One of the most compelling take aways from the April 2023 AACR Annual Meeting was the impressive number of participants, from across the country and around the world, who were interested in NCI presentations and workshops. As work progresses on many of the issues and opportunities that surfaced at the 2023 meeting, CBIIT/CRDC teams are already planning for AACR 2024 to be held April 5-10, in San Diego.  
CBIIT/CRDC teams are considering sessions and booth demonstrations, as well as a special event to mark the CRDC's 10th anniversary.